Come, see, and enjoy the true craftsmanship of a bygone era. Producing quality furniture for your home or yard, Carpenter's Corner is  located at the historic Tallulah Falls Railroad Depot on new 441. We are home to Lionel, HO, LGB, N and Z gauge trains with 2 rooms dedicated only to model trains. Stop in and visit our working 3 train Lionel layout, enjoy the Lionel experience from a bygone era.
In addition we also have antiques, Fine Art & Photography, wooden toys, pottery and a variety of other handmade crafts from some of our local artisans.
In addition, we have recently added Melissa and Doug wooden trains and toys along with their catalog, allowing you acess to over 3000 great Melissa and Doug items
Our book collection ranges from the Hardy Boys series (1991) through old Methodist/Baptist hymnals on to Edinburgh Magazines from the late 1700's. One of our favorites is the London Dispensatory from 1723, listing all of the various"remedies" used from 1500 onward. Are you looking for a James Fenimore Cooper from the early 1800's? Stop in and look at the "Cooper Collection". Found only at the Depot.
You can shop online, or simply stop by.There are treasures here for everyone and something new almost every day.  We are located  on Highway 441 at the corner of Main and Moss St., directly across the highway from the Tallulah Gorge, in the historic town of Tallulah Falls, Georgia 30573.
---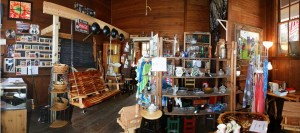 Our Store is full of antique books, handmade soaps, locally created art, Lionel Trains, and so much more. Click In to see what we have to offer.
---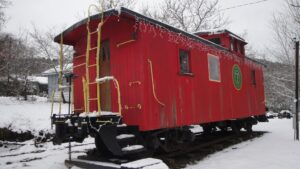 The Caboose has been sold to the children's Foundation of Atlanta and will shortly be moved to the Village in Stephens county where it will be restored and used at the main entrance  to the Village, the beautiful youth residence providing solutions to the quiet crisis of displaced children in Georgia. The village encompasses over 180 acres and has been built over the last years by the foundation and many volunteers. It is a perfect final home for this old southern caboose
---
Carpenters corner Swings is our line of outdoor quality furniture and play sets. Our swings are made with comfortable contoured seating, and can be made with a variety of materials. Porch swings come finished in Cedar, Oak, Cypress, Black Walnut etc. and can be varnished, painted or stained, your choice. All of our swings are provided with chains, ready for hanging.  We also offer a variety of stands to allow you to place your swing anywhere in your yard or garden.
We custom build lawn furniture, swings, play sets and much more. Stop in and chat with us about your needs
Click here to see an example of our swings and outdoor furniture.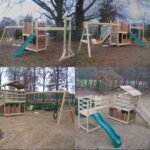 Our play sets are site built  to your specifications, with just about any option you can dream up. We like to say "If it is wood…yeah, we can definitely do that." Options are only limited by your imagination, and are priced "a-la-cart" to help stay within your budget.
Click here to see an example of our play sets.
---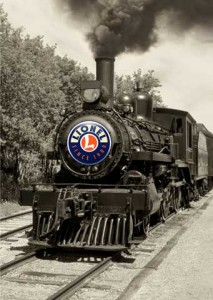 NOW PULLING INTO THE DEPOT ON TRACK ONE—
Post War and Modern Era Lionel® train sets.  We have secured several different sets of Lionel® trains for you to choose from and are in stock now.
As we mentioned earlier, we have been working on finding a new and fresher way to meet your modeling needs. So, keep an ear close to "the track" and check back soon to see what we will be offering to help enable your inner engineer take more fun further down the track.
To watch for more news as we post it, click here.